CURRENT

• Fresh and published for lockdown: my tiny letter for the Royal Society of Literature's 'Only Connect' series was published as their 50th edition. It can be read at International Times
• My talk for the Communist Party's centenary series, Pandemonium, 'Vital signs - Literature post Covid', was chaired by Ben Chacko. Video on Facebook
• Writing a weekly Iso-lona Diary for International Times
• Preparing my play Blood, Gold and Oil for theatre performances in 2021
• Finishing novella Hannibal and the Masked Girl
• Writer in residence at Pentameters Theatre
• Theatre Committee - Writers Guild of Great Britain
• Editorial Board - Left Book Club www.leftbookclub.com
'Jan Woolf has a sexy, vigorous imagination and the art to realise all her good ideas. I love her writing.' Edmund White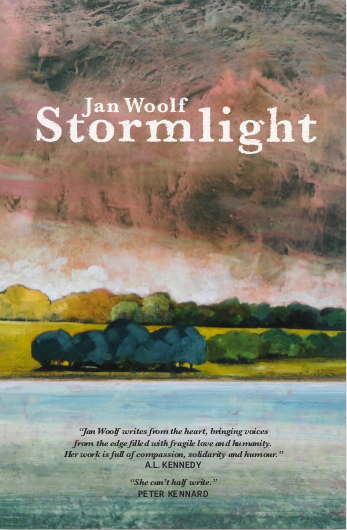 Stories - short and long - setting ordinary people against big themes: war, loss, betrayal, contemporary politics and the search for fulfilment. Like the author's first collection (Fugues on a Funny Bone) they are funny and acerbic - and include her Royal Court short play examining the Blair legacy, which Heathcote Williams called 'a gem.'
Stories range from a Rambler's Christmas day walk, a childless senior sneaking into a mothers' and babies' only film, a bitter family argument over the EU referendum, management consultant wonkery, and the down but not quite out of homeless street life. All are rooted in experience and activism.
Reviews: International Times and Morning Star.
'Jan Woolf writes from the heart, bringing voices from the edge filled with fragile love and humanity. Her work is full of compassion, solidarity and humour.' —A.L. Kennedy

Order a copy for £10, post and packing included.
Read 'Once Around Uncle Ho' on the Morning Star website.
Listen to Jan Woolf and Maureen Casey read 'Babes in Arms' at the launch event for Stormlight, Housmans Books, February 2020:
Fugues on a Funny Bone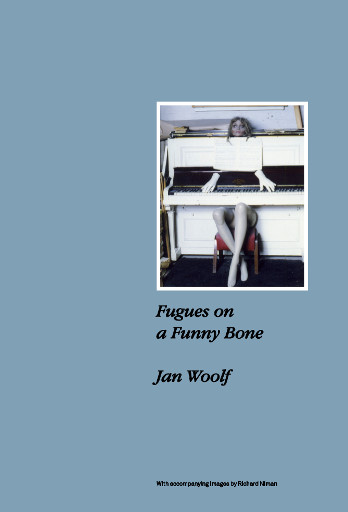 Fugues on a Funny Bone
A collection of linked stories inspired by a London pupil referral unit, with accompanying images by sculptor Richard Niman.
'If that sounds worthy or didactic, it isn't. The language is beautiful – Jan Woolf is a painter, and her love of imagery comes through in the writing… She has also worked with troubled children, and her empathy for them also comes through in the stories.' Helen Smith
Order a copy for £10, post and packing included.
Read a story. 'Beth in Venice' with art work by Richard Niman
Jan has also read much of her own work, often with actors, most recently at the Freud Museum and the ICA, and held the first Harold Pinter Writers' residency at the Hackney Empire, where her play Porn Crackers was directed by Ruth Boswell.
She is a critic, reviewer and editor, and has published various pieces of journalism, drawn from a life of political activism and teaching.
Jan edited many books for the Muswell Press, and ran 'Off the Shelf' at Blacks club Soho from 2011 to 2014 – a writer's development project for the Writers Guild of Great Britain, of which she is an active member.