FICTION
Published fiction
2017 Three shorts published in The New River Press Year Book, 'Navaswan', 'Castro's Room' and 'Eulogy for a Defiant Gardener'. Download press release
2015-2017 International Times, contributing short story writer, as well as reviewer, and interviewer. Author page at http://internationaltimes.it/author/jan-woolf/
2010 Fugues on a Funny Bone www.muswell-press.co.uk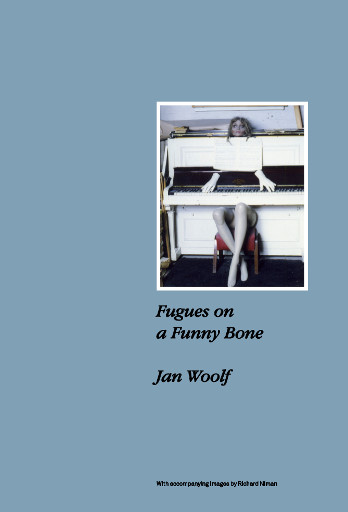 Fugues On A Funny Bone
BUYJan writes: 'My title came to me as I was thinking about the order of the stories. There was a linking context, but also a couple of consistent characters that were flirting. I'd also just listened to some of Bach's Brandenburg concertos and learned that the fugue, or flight in music gives it tremendous energy – as one instrument or sound chases another. Funny bone was not only alliterative but suggested humour as I played about with language in a climate of management speak, or 'bad language' (as we are always telling children off about). Many of the stories come from the 'inside worlds' of children we might consider written off; the troubled, delinquent or problematic. Their situations suggest tangential stories through the lives of the people who teach and care from them – which is why the collection ends with a trip to Albania.
'Each piece is accompanied by an image from sculptor Richard Niman. A monograph by the artist, about his work, and why the selected images resonate so well with the writing is at the end of the book.' www.richardniman.co.uk
11 December 2012 Jan Woolf was interviewed about Fugues on a Funny Bone by Brendan Foley for the Writers Guild. www.writersguild.org.uk
'A plucky and revealing set of stories drawn from the rise and fall of a cast of essentially good characters in an essentially flawed system….'
Sara Baume, The Short Review, February 2012 READ
'Fugues…' is described by Lindsay Clarke as '…moving, funny and provocative: deeply pertinent to our confused and confusing times.'
'Jan Woolf has shaken up the short story form and forcing a redefinition, in the way that Simon Armitage has with poetry.' Cheryl Moskowitz

BUY Fugues on a Funny Bone (print and Kindle edition) from Muswell Press or amazon.
2010 'Soho Square', a short story published in Libbon magazine, which was later turned into the play Porn Crackers. See THEATRE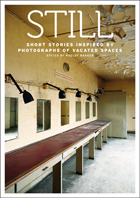 Still
2012 Short story 'Ten a Day' is included in Still: an anthology inspired by photographs from photographer Roelof Bakker. Still includes contributions by twenty-six international writers.
www.neg-press.com
The Short Review reviews Still, 14 November 2013
2016 The Lost Boy and the Yak Hair, a word tower published in International Times,
http://internationaltimes.it/the-lost-boy-and-the-yak-hair/

Readings
2018 Reading from Hannibal and the Masked Girl at Curious Arts Festivalwww.curiousartsfestival.com
2017 Pentameters Theatre, London, launch of New River Press, Castro's Room
2011 ANTs, Freud Museum (with Alan Franks), London
2011 Ten a Day, Express Excess, London
2011 Soho Square, Blacks Club Soho (Of Wit and Madness with Carol Topolski)
2011 Albanian Bananas, Bookmarks (Muswell Press in performance), London
2010 Muggins and the Griot, Daunts, Notting Hill , London
2010 Muggins and the Griot, Pitshanger Bookshop (Muswell Press in performance), London
2009 Jordan Meadows, Hackney Empire, London
2009 The Dissertation, Radio Resonance
2007 The Ushers Shoes, ICA, London
2006-2009 Five live broadcast readings for The Foundry Late Late Breakfast Show
2006 Beth in Venice, Royal Holloway University ('The Child in Conflict' with Blake Morrison), London

Awards
2013 SALT flash fiction prize, runner up for 'Fixed'
2004 Asham Short Story competition, short listed for 'Moving On'
1966 Beaverbrook Bennet Essay Prize for essay on TE Lawrence

Editing
2018 North to North, Lynne Symonds (Author Enterprises)
2015 The Mortal Maze, Ian D. Richardson (Preddon Lee Ltd)
2014 Beckett's Last Act, Mora Grey (Muswell Press)
2013 The Gardens that Mended a Marriage, Karen Moloney (Muswell Press)
2012 The Day the Grass Came, Leo Aylen, poetry (Muswell Press)

'I never had such an editor.' – Leo Aylen

2012 Capitalism and Planet Earth, an irreconcilable conflict by Fawzi Ibrahim (Muswell Press)
2012 Death of a Nightingale, Alan Share (Authorhouse)
2010 Follow Me, a diary of love loss and fine dining by Joan Alexander (Muswell Press)
'Jan is an editor with great panache; she's thorough and hugely inspiring.' – Roelof Bakker